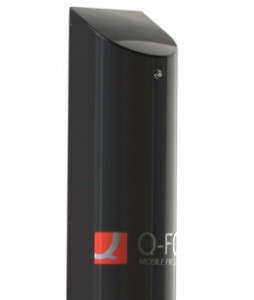 Situated in Nora (Sweden) we develop and manufacture mobile fire control products. Our first launched product Q1 is a groundbreaking concept in fire protection – developed for environments such as care homes and temporary accommodation requiring adaptable, individual fire solutions. The Q1 can easily be moved from location to location and is very swiftly installed which is of particular relevance in such situations. Q1 can be used individually or in multiples without detriment to its reliability, simplicity and cost effectiveness.
Our solution requires minimal maintenance, there are no permanent fittings (such as water pipes) and ease of portability equate to low total cost of ownership. The Q1 high pressure water mist sprinkler technology offers highly effective fire suppression and helps to minimise water damage to buildings and belongings.
The early activation of the Q1 system at the onset of a fire delays its growth, dramatically increasing the chances of survival for anyone caught in the fire. Q1 also reduces risks during rescue due to this delayed fire growth.
For maximum reliability in difficult environments Q1 can be equipped with multiple independent detectors. It's programmable control system can be connected to external alarm systems. It can also be equipped with a variety of additional functions such as extra nozzles to protect adjacent rooms.
Detecting a fire early saves lives and property.
Find out more at Products or Contact us immediately!